Soup Fest: 2017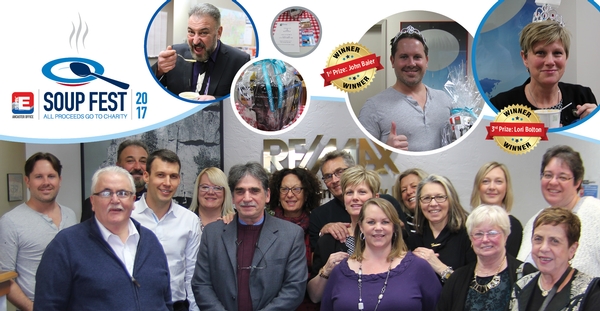 The Ancaster office held its Annual Soup Fest last week on Friday, March 3rd in support of Neighbour-to-Neighbour with all proceeds going to CHARITY. We managed to raise $500!
Voting took place for the BEST SOUP with a variety of soups being submitted by several of our Ancaster Agents and staff.
CONGRATULATIONS to our 1st Place winner John Baier for his Goulash Soup. In 2nd Place, Shelley Romano for her French Onion Soup, in 3rd Place, Lori Bolton for her Cajun Crab Corn Chowder and in 4th Place, Tabitha Cavarzan with her Zuppa Tuscana Soup. All contributions were so amazing and delicious – it was definitely difficult to decide.
And... to all PRIZE DONATIONS made, a big THANK YOU goes out to Preston Schmidt with MHC Mortgage Services, Jennifer Adair with RBC Royal Bank, Casual Gourmet at 1027 King Street W., and RE/MAX Escarpment Ancaster Manager, Mike Cusano.
Truly a FUN event! Can't wait to see what's on the menu for next year!